'Vegan' Dating Sites*
Along with Vegan Passions (the site you are on now), the sites listed below all focus on connecting Vegan singles with other Vegan singles. Meat eaters are not invited. The sites listed below range from those focused on Vegan dating to others focused on Vegan chat. The primary goal is to connect Vegans though. Each site, regardless of the company running it, shares many of the same characteristics as many of the other sites. So, if you are looking for a great dating site focused on Vegan singles, then there are MANY here to choose from, so look through the ones below to find the one that seems like the best fit for you.
AD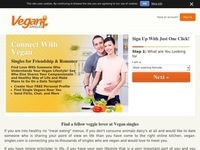 Vegan-Singles
Find a fellow veggie lover at Vegan singles
Join our online dating agency for vegans who are single and looking to meet other people with same interests for love, romance and adventure! Sign up for free!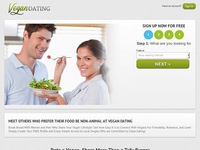 Vegan Dating
Date a Vegan, Share More Than a Tofu Burger
If you're looking to find a vegan like yourself that understands yours views on food and life, then get online to Vegan Dating and meet your right person.

Green Singles
"Meet Your Conscious Partner Here!"
While not exclusively for Vegans, Green Singles embraces an all-encompassing conscious awareness of how people should treat one another and how they should treat the planet and of course, how they should treat animals. Find your Vegan soul mate here.



Vegan Dating Service
Find Compatible And Caring Singles At Vegan Dating Service
Our vegan dating service will allow you to meet other vegans online quickly and safely. We are specialist vegan dating site and one that will not cost you a penny to join!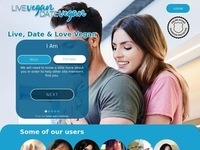 Live Vegan Date Vegan
Live, Date & Love Vegan
High quality vegan dating site with one-on-one direct message chat options for single vegans looking for other like-minded vegan singles. If you are interested in a site designed exclusively for the vegan community then Live Vegan Date Vegan could be the site for you. Join for free and have fun meeting other vegans online!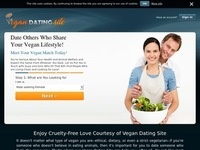 Vegan Dating Site
Enjoy Cruelty-Free Love Courtesy of Vegan Dating Site
Do you want to meet other vegan singles for companionship, love and more? Sign up for our Vegan Dating Site and start dating people you find attractive!
AD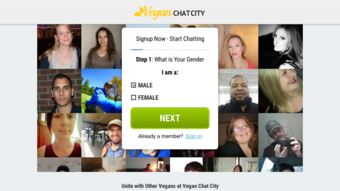 Vegan Chat City
Unite With Other Vegans At Vegan Chat City
Check out Vegan Chat City and give yourself a chance to talk with people who share your common food interests and passions. Register and connect now!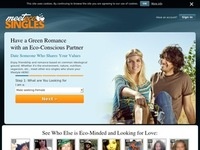 Meet Eco Singles
"Find Green Dates In Your City!"
If you are interested in dating someone who shares your values, Meet Eco Singles is built for singles who care about the environment, nutrition, animals and more. Meet like-minded eco-friendly vegan singles for dating and more!

Veggie Connection
"Join vegetarians, vegans, raw-foodists, fruitarians, and macrobiotics for romance and friendships."
Avoid meat eaters on a first date. Join Veggie Connection and find like-minded animal lovers and veggie eaters.
Veggie Date
Why Date A Meat Eater?
Veggie Date is primarily filled with Vegetarians, but it does include members with a focus on vegan food, organic food, GMO food, organic raw food and GMO free raw food. Basically, you are not going to find meat eaters on Veggie Date. Enjoy!
*Sites listed on this page are a combination of ads, affiliate related Sites and general non-partnership related sites that match the theme of Vegan Passions.